You may sometimes wonder about the names of the friends with whom you chat the most. Unfortunately, Facebook Messenger does not offer any direct option to see the names of such people.
However, you can still do that with the help of third-party apps. One popular app that lets you know who you chat with the most on Messenger is Cool Friends. The app currently works only on Android devices.
In this article, we've explained how to use the Cool Friends app to know the name of the person with whom you chat the most on Facebook Messenger.
How to See Who You Chat Most with On Facebook Messenger
Please note that the application we'll be using is a third-party app and is not linked with the official Facebook App. You need to use the app at your own risk as the app requires you to log in using your Facebook credentials.
Step 1: Go to Play Store and search for cool friends or top Friends. Download and install the app.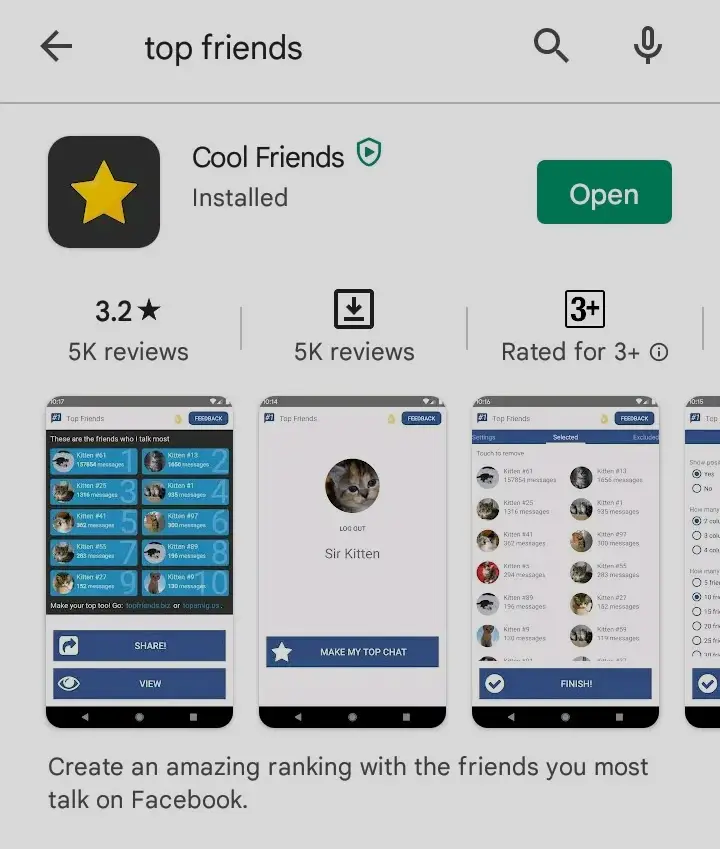 Step 2: Launch the app and log into your Facebook account through the app. You need to use your Facebook login details.
Step 3: After logging into your account, tap the MAKE MY TOP CHAT option at the bottom of the app interface.
Step 4: The screen will show you the list of your friends with whom you have chatted the most. The names will appear in decreasing order starting with the friend you have chatted with the most.
If you want to save the result as an image, tap FINISH at the bottom. Now, you can view it in your Gallery or share it with your friends.