Profile pictures in Gmail are so small that it needs to be enlarged to see the image with more clarity. You might be wondering whether the image can be viewed in full size.
It's possible to increase the profile picture size with some workarounds. This can be done both using your phone and pc. However, the image resolution or quality depends on the actual resolution of the picture the other user has uploaded.
Read along to discover the right way to view someone's Gmail profile picture.
How to View Gmail Profile Picture Of Other Users
It's easier to view others' Gmail profile pictures on a PC. Here's how to do it.
Using Your PC or Computer
Step 1: Open gmail.com on your browser (Recommended: Chrome)
Step 2: Go to the mail of the user whose profile picture you want to view.
Step 3: Move the mouse pointer to the profile picture and right-click on it. Then, select Open Image in New Tab.
Step 4: Go to the new tab and you can see something similar to =s80 in the URL.
Step 5: Replace 80 with a bigger number like 800 and press enter.
The profile picture will now be seen enlarged.
Using Your Phone
The process is almost similar to the above but it can't be done on the Gmail App. You need to use your mobile browser.
Step 1: Visit gmail.com on your Chrome browser.
Step 2: Go to that particular mail whose profile picture you want to view.
Step 3: Long press the person's profile picture.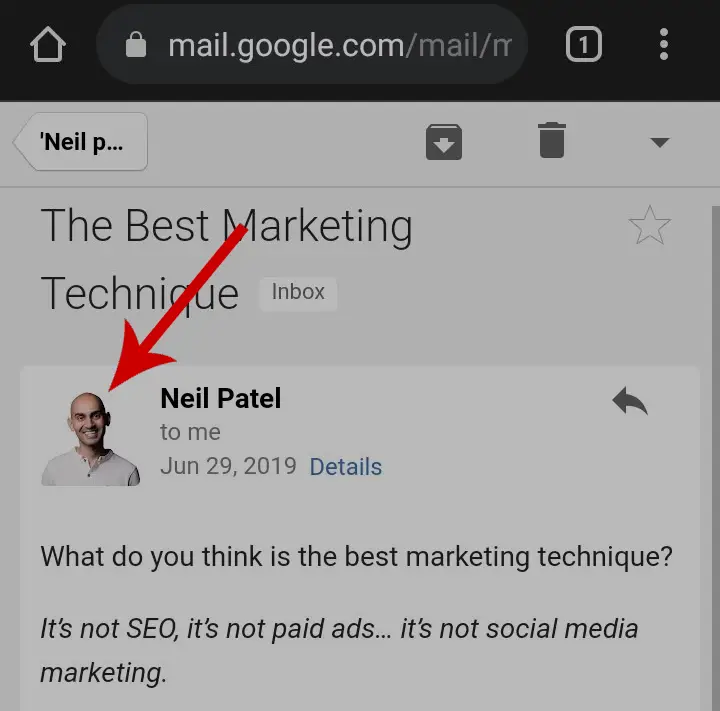 Step 4: Tap Open image in new tab.
Step 5: The image will be opened in a new tab. Go to the new tab, tap the URL and click the Edit icon.
Step 6: Replace =s100 with a bigger number and press enter. For instance, =s800.
The image will now be shown in full size. However, the quality depends on the actual image quality it was uploaded by the user.