Instagram has always been used for posting and sharing social media pictures and short videos by users for the past decades. With time, Instagram has also progressed and evolved itself to provide better functionality and adaptability to its users. In this modern era, online marketing has become the thing that everybody wants to take advantage of.
So this is where Instagram felt the need to give dedicated accounts for users who wish to do business activities and produce creative content on the platform.
Types of Accounts On Instagram
Back in the early days of Instagram, people do not have the option of switching between different types of Instagram accounts. But nowadays, Instagram has made it more and more user-friendly and adapted to what users needs.
There are three different types of Instagram accounts right now. These accounts differ in the tools and additional features that cater to the different purposes that users need to do with their accounts.
The three types of accounts are Personal account, Creator account, and Business account.
Now, let's have a look at each of these types.
Personal Account: A personal account is a basic account that you can use for your personal need. If you are not interested in promoting your own business or constantly upload images and videos for your followers as an influencer, then this is the right choice for you. With this account, you can connect with friends and share whatever you like be it IG Reels, stories, and feeds. You also have the flexibility to set your account to private or public.
Creator Account: This is the most recent type of account, and it provides a platform for artists to share content with their Instagram followers. Influencers, artists, and public personalities that routinely publish content to entertain and connect with their audience utilize this sort of account. This is designed to distinguish between normal users and those who use it to produce content.
The user interface is quite similar to the personal account. Except that there are additional features for your account such as Page Insights, Creator Studio, and Analytics. In addition, you may create and manage promotions for your page.
Business Account: The most sophisticated form of account is the business account. The term "sophisticated" does not imply that personal and creative accounts are less advanced than business accounts. This means that this business account is jam-packed with features and tools that companies and artists alike will need to manage and market their enterprises. And unlike the personal account, you can't set it to private.
With business accounts, you get access to Insights tools to track your account performance. Moreover, there will be more features that get unlocked with business accounts which are explained below.
Benefits of a Business Instagram Account
The Instagram business provides you several benefits over a personal account. These benefits are what distinguish between a personal account and a professional account.
The choice of category for your account helps people interested in a particular niche and category find you easily on Instagram. This improves your page SEO and conversions.
The ability to display your contact information helps people inquire about your business easily.
Access to video chats and direct messages.
Ability to run Ads. Plan Instagram posts or stories to increase traffic or conversions, grow your following, or raise brand recognition through the paid campaigns.
Ability to tag products and feature in Instagram shopping.
Access to Creator Studio on Desktop.
Instagram business accounts may plan and schedule posts in advance with the aid of third-party scheduling software such as Hootsuite.
With Insights, you'll get a detailed analysis of your audience's profile views, reach, impressions, and clicks, as well as demographic and activity data.
Instagram Shops are a recent feature available on Instagram, and only Business or Creator accounts have access to it.
How to Change Personal Account to Business Account On Instagram App
Step 1: Open the Instagram App. This will directly land you on the Instagram feed page.
Step 2: On the feed page, tap your account icon at the bottom-right corner of the screen. This will lead you to your profile page.

Step 3: On the profile page, tap the menu option at the top-right corner represented by the three horizontal lines.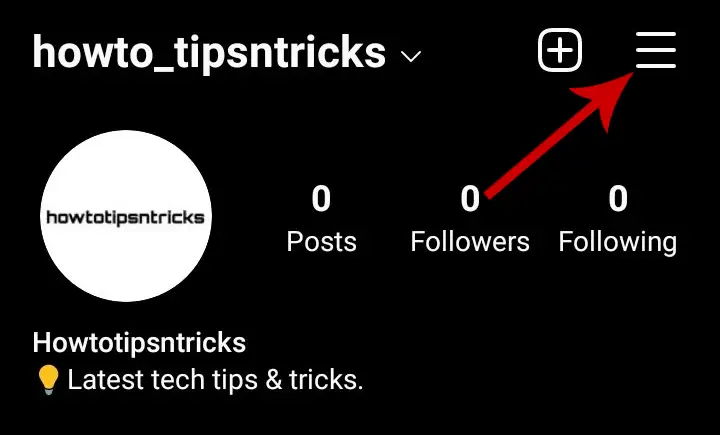 Step 4: Select Settings.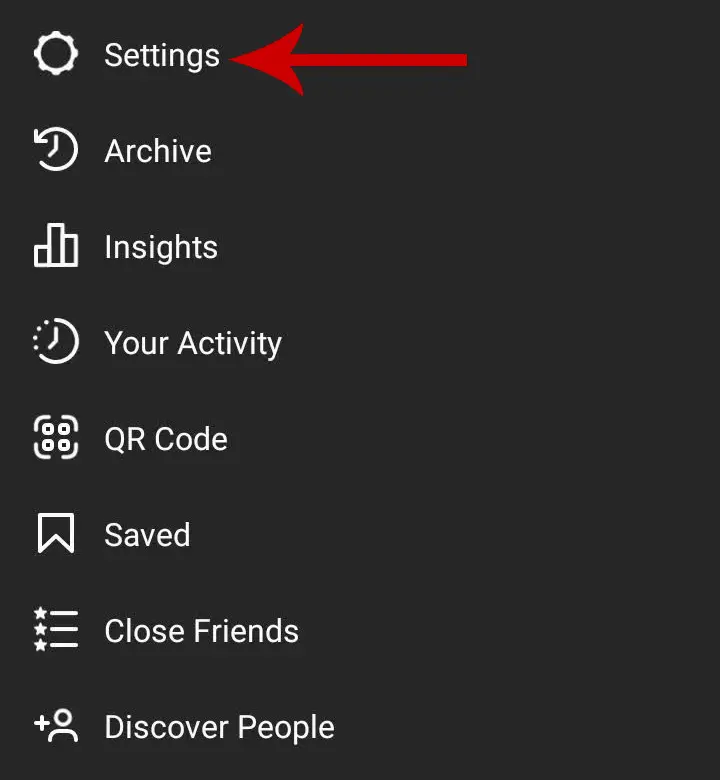 Step 5: This will open up the Settings menu. Scroll down and tap the Account option.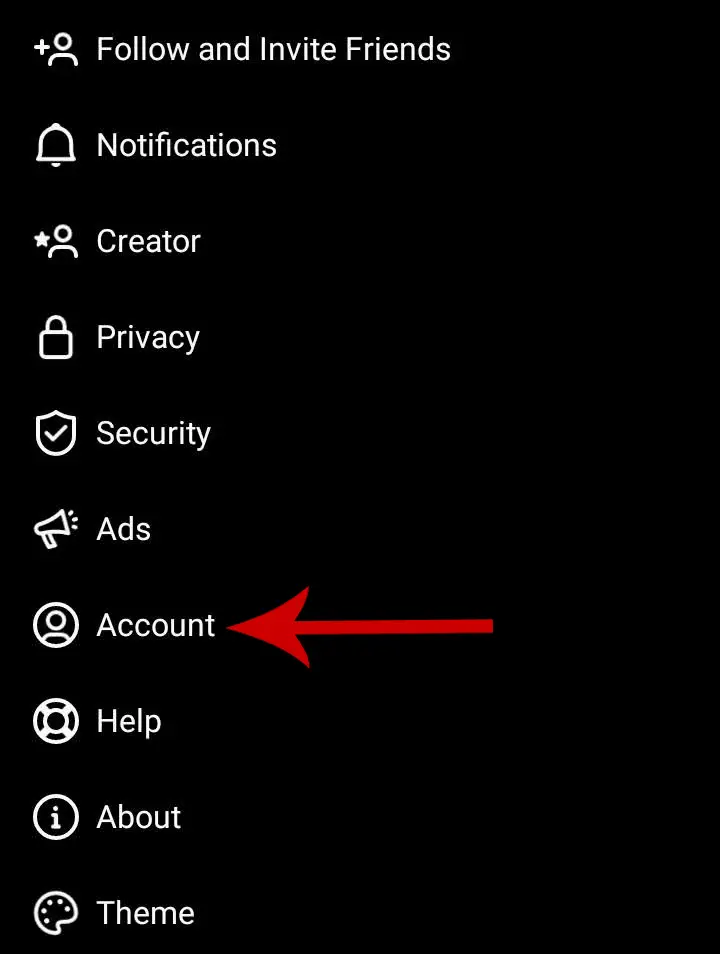 Step 6: Now you are in the Account section with different account settings options. Scroll down to the bottom and tap Switch to Professional Account.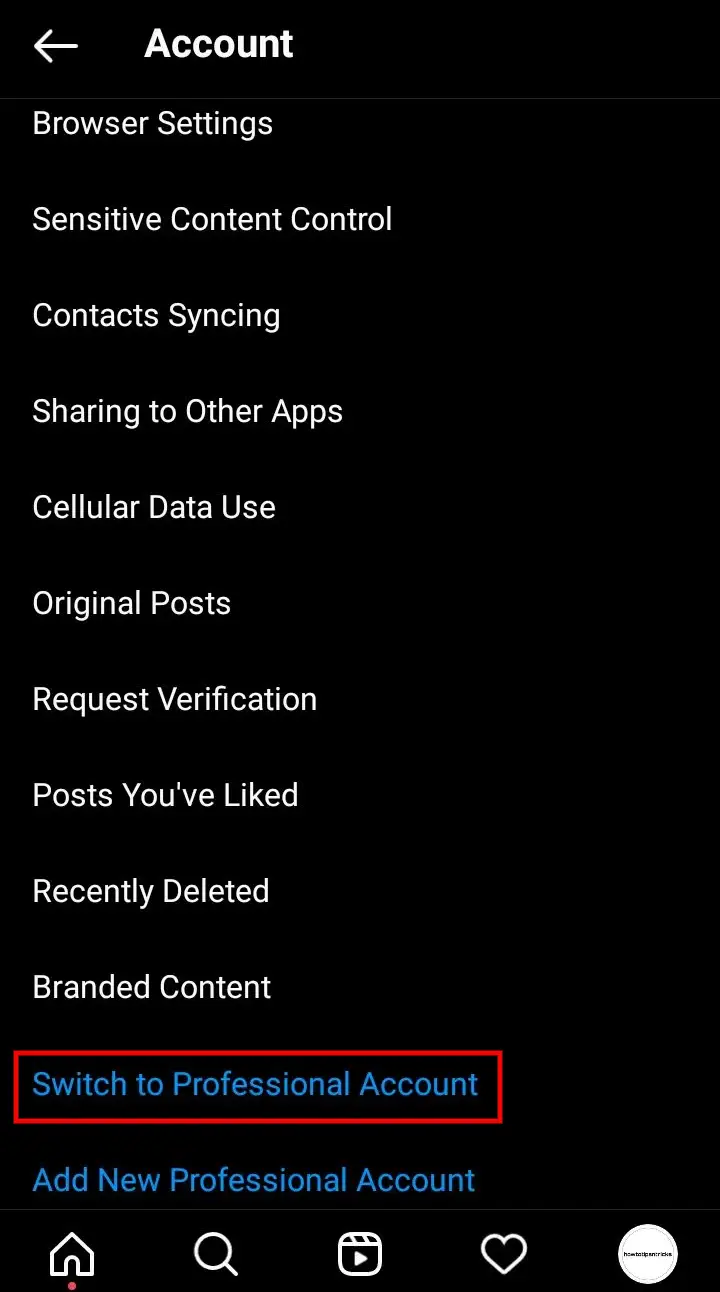 Step 7: You'll be taken to a new page that shows you the features of a business account. Tap Continue until you reach the next page.
Step 8: Select a category from the list of options that describes you. Then tap Done.
Step 9: Select Business from the given options and tap Next.
Step 10: If you would like to display your contact info on your profile, fill the respective fields, turn ON Display contact info and tap Next. Otherwise, tap Don't use my contact info.
Step 11: You can also connect your account to Facebook or else you can skip it by tapping Skip at the bottom.
Step 12: You can skip the next process by tapping the X icon at the top.
That's it. Your personal account is now changed to a business account.
How to Switch Personal Account to Business Account On Instagram On Desktop
Step 1: Log in to your account on your browser and tap your profile icon in the top-right corner of the window. Then select Settings.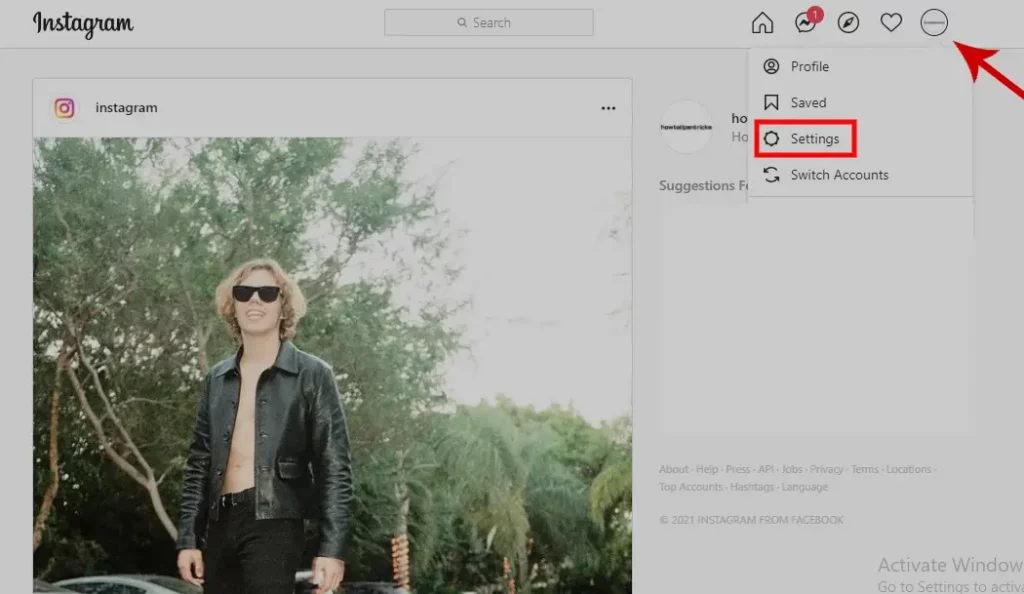 Step 2: From the left panel, tap Switch to Professional Account at the bottom.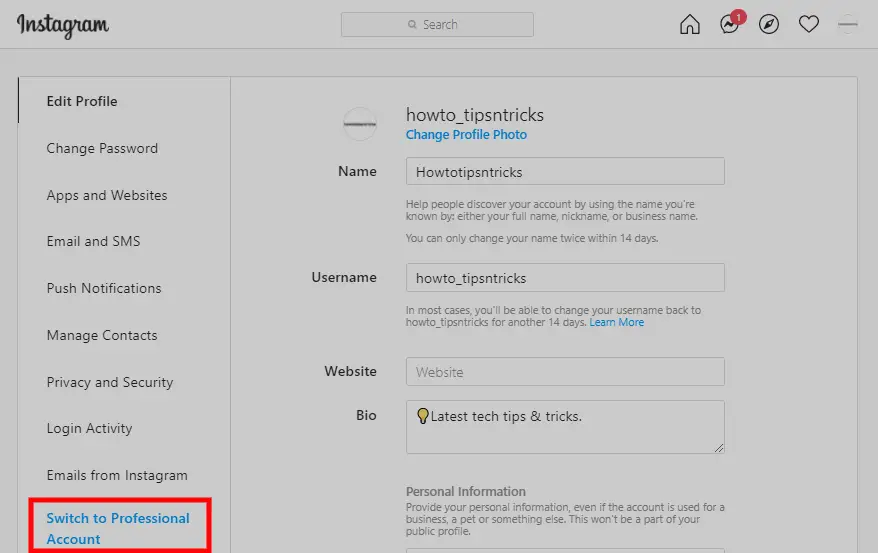 Step 3: Complete all the necessary steps by following the instructions displayed. This is almost similar to the method mentioned above using an Instagram app.
So, this way you can turn your personal account into a business profile to take all the advantages that a professional account offers.