Clubhouse was just an audio-based social media platform. But, now it has moved beyond audio chat and has introduced a text-messaging feature known as Backchannel.
Clubhouse Users can now send text messages to each other and also create a group chat.
However, Clubhouse's Backchannel only supports text messages and there is no option to send media (photos, videos, files). As the Backchannel is recently introduced, we can expect more exciting features in the near future.
If you are a Clubhouse user, you must have an idea to use the new messaging feature.
In this blog post, I will be sharing "how to use chat on Clubhouse?"
How to Chat on Clubhouse
The messaging feature allows 1:1 & group chat text messages.
Step 1: Tap the airplane icon at the bottom next to the Start a room tab. This will take you to your chat.
Step 2: If you have previous chats, open any of them to start a conversation. Otherwise, click the pen & paper icon at the top-right corner.
Step 3: Search for the user you want to message, after the user appears tap the + icon.
Step 4: Then tap the arrow icon at the lower-right.
The search only shows the people you've followed. If you want to message someone who you don't follow, continue with the alternate method below.
If you want to start a group chat, select multiple users and tap the arrow icon.
It will now open the chat. Type your message and tap on Send.
Alternate Method:
Step 1: On the home screen tap the search icon.

Step 2: Search for the user you want to chat with.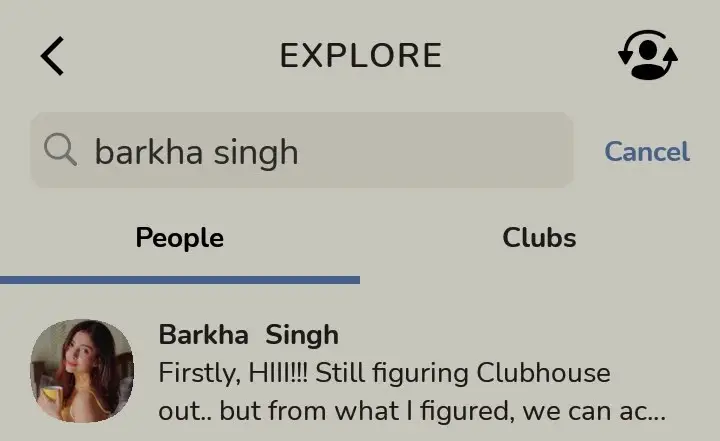 Step 3: Once you're on their profile, tap the Message icon at the bottom. This will take you directly to the chat.
There are two tabs on Backchannel – Chats & Requests.
If someone you follow sends a message, the message will appear directly on the Chats tab. If you receive messages from people you don't follow, their messages will be shown on the Requests tab.
Can You Delete the Messages You Have Sent?
Once you have sent a message to someone, you won't be able to delete it. There is no option to delete the sent messages or the messages you have received.
Another downside of Backchannel Messaging is you won't be able to know whether the other person has seen the message or not.
As the messaging feature is newly introduced on Clubhouse, it may come up with more exciting features in the near future.
RELATED