Tiktok is one of the most popular social platforms where various viral trends take over. Earlier, people have gone crazy over the "What Human Feeling Are You" quiz test. Such popular trends are common in TikTok and moreover, they are quite interesting to take part in.
Recently, a new trend has taken over the Internet which is known as the "Mental Age Test Quiz".
Let's find out what it is and how you can take part in the trend to acquire millions of views and likes on your video.
What is the Mental Age Test Quiz?
The Mental Age Test Quiz is a personality test quiz by AREALME. It helps you to figure out "How old are you mentally?".
The site asks you some questions and then determines your mental age based on the responses to the questions.
It also displays one of your qualities based on the answers you have chosen. It could be – "Sophisticated, Average, or Over Worries".
Users are loving this test quiz and are sharing their shocking results on social platforms.
How to Take the Test
The quiz is available on the website "arealme.com".
Step 1: Open the link on your web browser – AREALME Mental Age Test.
Step 2: Select your age by tapping the dropdown option beside "My real age:", then tap Start.
Step 3: Now, a series of questions will pop up which you need to answer one after another.
Some of the questions that are asked include – "I have my principles", "I don't want to think about complicated things", "Tears come to my eyes very often." and more.
Most questions are to be answered in True or False and Yes or No.
Once you answer all the questions, your mental age will be displayed on the end screen with one of your feelings based on your perspective.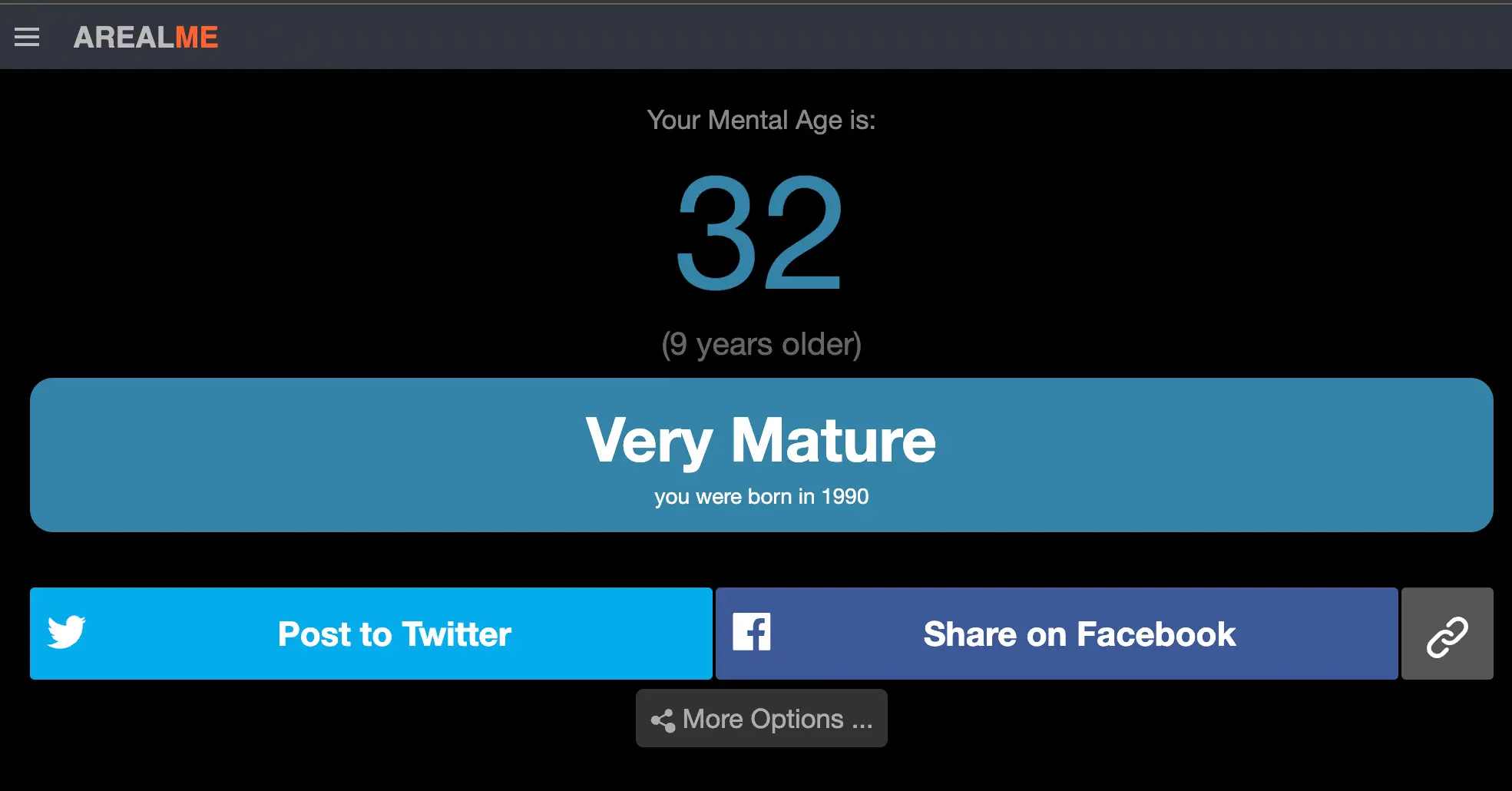 Now you can share the results on social platforms. There's a default option to share on Twitter and Facebook.
For TikTok, you can take a screenshot of your result and include it in your video.
Are the Results Accurate?
Some users say that the results are reliable however some say they are not. So, we suggest you to take it only for entertainment purposes. Anyway, it's fun to take the quiz and share the results with your friends.