Got a new phone and looking forward to creating a new Gmail Account? Or just wanted a new Gmail account for some reason but have no idea to create one.
Don't worry, I am here to guide you on how to create a new Gmail account using your phone or laptop in simple easy steps.
Gmail is one of the most popular email services provided by Google itself. You can send emails, files, photos & documents using Gmail.
A Gmail account or Google account is also used to sign in to other Google services like YouTube, Playstore, Drive, Photos, and many more. Without a Gmail account, you can't use any of them. You can also use Gmail to Sign in on various other platforms like Facebook, Instagram, Twitter, and a lot more.
A Gmail account is a must for every smartphone user. A phone without a Gmail account is almost worthless. So you need to create a one to use all the available features and services.
To create a Gmail account, you need to first create a Google Account. After creating it, you can access all services like Gmail, YouTube, and Playstore with that newly created Google Account.
So, let's get started.
How to Create a New Gmail Account For Yourself
You can use a mobile or laptop/computer to create a Google account.
Step 1: Head over to the Account Creation Page. For this >> Click Here
You will see a screen as shown below.
Step 2: Enter your First Name and Last Name.
Step 3: Enter Username (No two Gmail addresses can be the same, so it should be unique. If your entered username is not available, try other different combinations)
Step 4: Enter your password and re-enter to confirm it.
Your password should be 8 or more characters long and a combination of letters, symbols, and numbers.
Note: Make sure to remember your username and password. This will be required to sign in for other Google services.
Step 5: Click Next.
You will see something like this.
Step 6: Select your country code and enter your Mobile Number. Sometimes this can be optional and other times it is required for security purposes. If it shows optional, you can skip entering your Number.
Step 7: If you have another Gmail address, you can provide it in the Recovery email address section. This is also optional.
**Mobile Number and Recovery email address will help you to recover your account if you forget your password. So, it is advisable to provide them.
Step 8: Enter your Birthday and select your Gender.
Step 9: Click Next.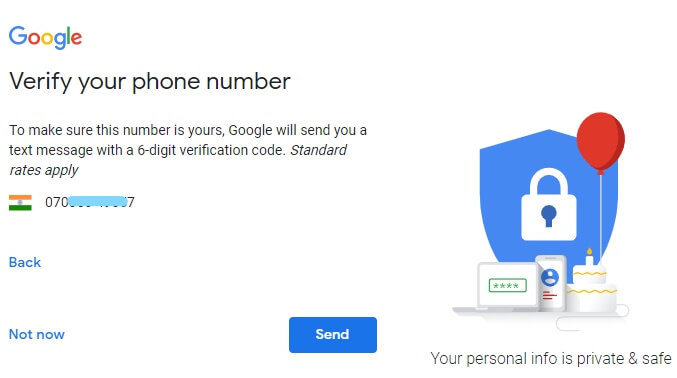 If you have entered your Mobile Number, you need to verify it. If not, you will not get this option to verify the number.
To verify, click on Send. You can also skip this for later by clicking on Not now.
Step 10: Google will send you a 6-digit verification code in your entered mobile number. Enter the code and click on verify.
Step 11: Next it will ask you for some permissions. It is your choice to skip or grant permission by clicking "Yes I'm in".
Step12: A privacy and terms page will pop up. Click on I agree to proceed further.
With this, your new Google account is successfully created.
Now to access Gmail, you can click on dotted lines in the upper right corner and select Gmail. You can use other services listed there with the created account too.
This way your New Gmail Account Creation is successfully completed.
If you want to log in to the newly created account on any of your other devices, you just need to visit Google Sign-in Page and enter your email address and password that you have provided at the time of creation. This way you can access your account on another device.
I hope now you know how to create a new Gmail account with the simple steps mentioned above.
Related Articles: How to Remove Account from Gmail