Facebook Messenger allows users to archive their messages or chats. When you archive a message, it gets removed from the inbox. However, archiving a message does not delete it. You can always access an archived message.
The feature of archiving messages is useful for keeping your inbox clean without making it cluttered. Sometimes, you may encounter a situation where you don't feel the need to chat with a particular person, but still think that the previous chats with the person are worth keeping. The ability to archive messages becomes convenient in such situations.
In this article, we will explain how you can see the messages/chats you've archived on Facebook using both the Facebook Messenger app and the Facebook Web. 
How to See Archived Messages On Facebook Messenger App
The below-outlined guide will help you to view Archived Chats on Messenger. The steps will work on both Android and iOS devices.
Step 1: Launch the Facebook Messenger app.
Step 2: Tap your profile picture that appears in the top-left of the Interface.
Step 3: Select the Archived chats option.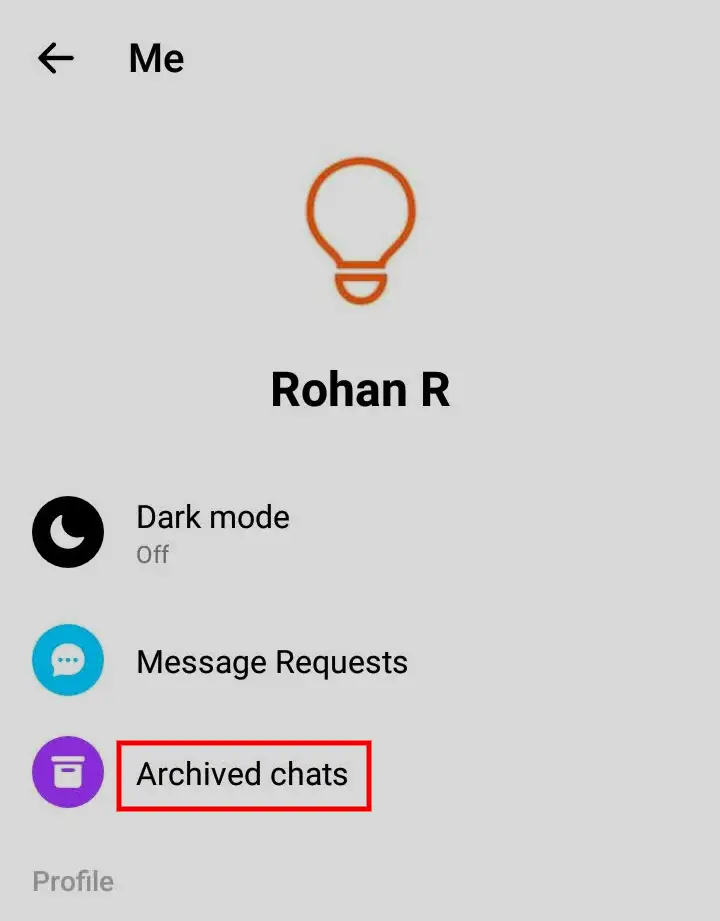 You will now see all of your previously archived chats.
To unarchive a chat, you just have to start a chat with the other person. Sending a new message to the person will make the conversation unarchived. After unarchiving, the message will disappear from the Archived chats list and will be restored to your usual Facebook Messenger inbox.  
Another way to unarchive a message involves pressing and holding the chat and then selecting the Unarchive option from the appearing options.
How to View Archived Messages On Facebook Web (PC)
You can also see your archived messages using the Facebook web. Here is a step-by-step guide that will help you see Archived Chats on the Facebook web.
Step 1: Visit Facebook.com using your computer's browser and log into your account.
Step 2: Click the Messenger icon in the top-right corner. It will appear beside the menu icon. Then, click the option "See all in Messenger" that appears at the bottom of the newly opened chats section.
Step 4: Click the three dots menu in the top-left corner of the interface and select the Archived chats option.
All of your archived chats will appear here. You can unarchive a person's message by simply chatting with them. Alternatively, you can also unarchive a message by clicking the three dots icon that appears while hovering over the chat and selecting the Unarchive chat option.