While you are scrolling through the comments on Instagram, you might find a comment that's interesting and you just want to copy it. But when you long-press the comment, there's no option to copy.
Instagram has not yet added functionality where you can directly copy comments on its app. This might be the most demanded functionality, but Instagram has not yet looked into it.
The reason for not introducing the feature may be the risk of copy-paste spam on its platform. Even though the app doesn't allow you to copy the comments, there's an alternative way to do so.
There might arise a situation where you want to directly copy the comments and paste them somewhere. So, this method to copy the comments will surely help you.
Here's how to copy any comment on Instagram.
How to Copy Comments On Instagram
You don't require any third-party applications or websites to scrap the comments and copy them. You just need to use your mobile browser or a PC. Either of them will do the work.
Step 1: Open Instagram on your mobile browser (Recommended: Chrome)
Step 2: Log in to your account if you aren't logged in already.
Step 3: Find the post you want to copy comments from.
Step 4: Now enable Desktop Site. If you aren't familiar with the desktop site on your mobile browser, below is the guide on how to enable it.
1) Tap the three dots in the top-right corner of your browser.
2) An options menu will then pop up. Scroll below and tap the checkbox next to the Desktop site.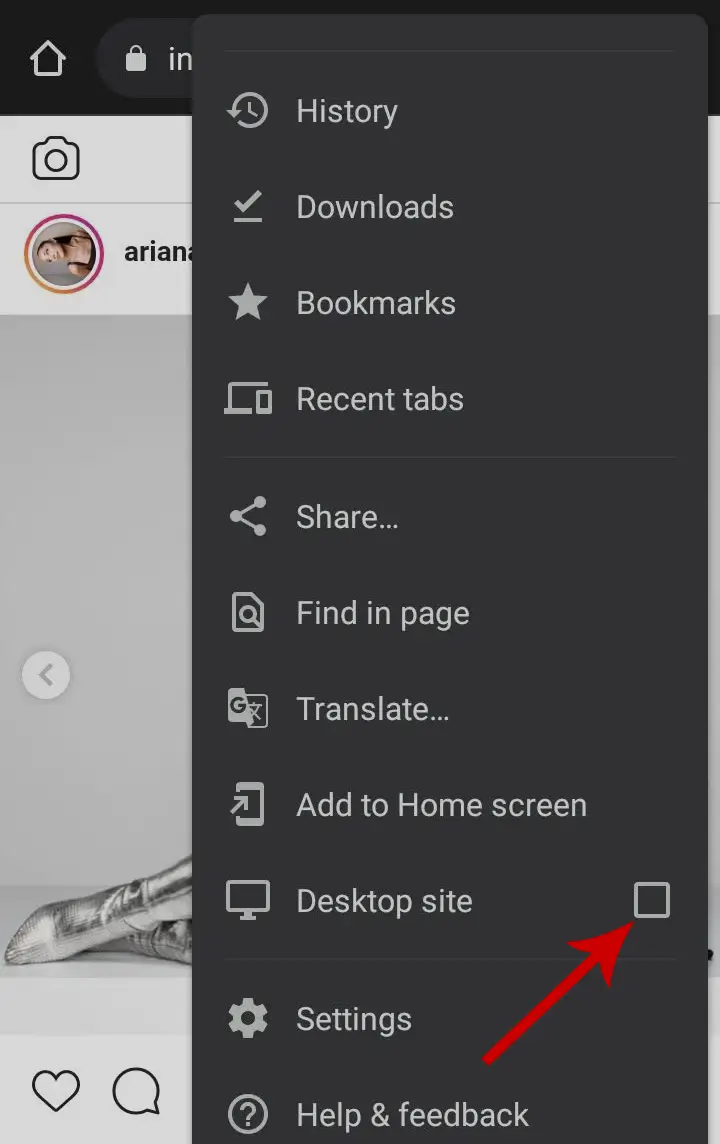 Doing so will make your browser look like a desktop version.
Step 5: The comments will now be shown on the right side of the post.
Step 6: You can scroll to find the comment you are looking for. Not all of the comments will be loaded, you need to tap the + icon to load more.
Step 7: Once you are on the comment that you would like to copy, long-press the comment, select the part you want to copy, and then tap Copy.
The screen may seem smaller after enabling the desktop site. For accuracy in copying the comment, just zoom the screen with your two fingers.
Although it takes a little more time to move out of the app and use a browser, this is the only way to copy an Instagram comment.
It's much easier if you are using a PC or a laptop. The procedure to copy a comment remains the same on your PC too.
RELATED